YES, WE HAVE IT!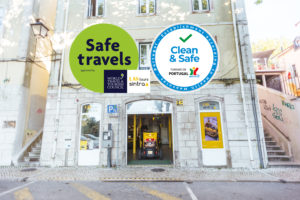 These stamps, given by World Travel & Tourism Council (WTTC) and by TURISMO DE PORTUGAL, allows our customers to know that LAS Tours Sintra, meets the hygiene and cleaning requirements necessary for the prevention and control of Covid-19 and other possible infections.

SAFETY AND HYGIENIZATION:
LAS Tours Sintra has 4 receptions for clients in with the distances required by law;
All our employees perform the service equipped with gloves / disinfection on the hands and masks / visors, which are renewed with each service;
Our vehicles are sanitized and disinfected, whenever a Tour starts and ends with a product suitable for our vehicles;
Customers must always present themselves with masks. If not, we have it;
Our store is equipped with alcohol gel solutions for all customers who enter the store.
We reinforce the confidence of our Clients!